FULL FLAVOUR PACK + FREE SHIPPING!
ALL FOUR FLAVOURS OF SACRED CACAO + FREE SHIPPING!
- Earth: Sacred Cacao
- Fire: Chili Cacao
- Love: Rose Cacao
- Vitality: Matcha Mint Cacao
*Free Shipping Australia Wide*
Once used by the Ancient Mayans as a spirit bridge to other worlds, Cacao has been considered Sacred for thousands of years. Today, it's used in daily practices and spiritual ceremonies to enhance enlightenment and deepen our spiritual connection.
To preserve this connection and honour the Ancient Mayan's, we blend our Cacao only with the finest organic, plant-based, whole-food ingredients and recommend that our Cacao be made on organic plant-based mylk to keep the Cacao delicious & Sacred.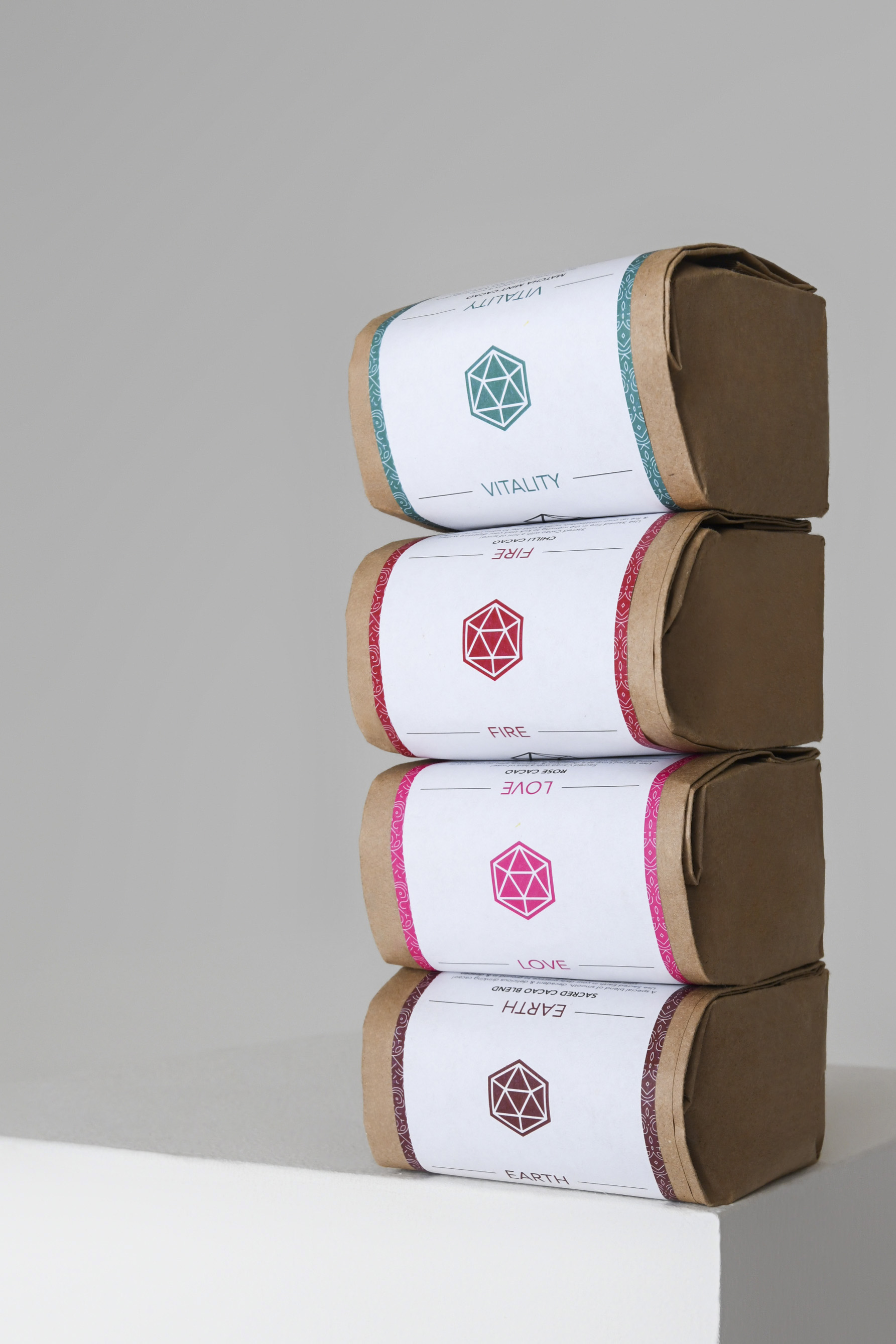 Sacred Taste is a producer of premium, organic, gluten free, dairy free, refined sugar free & preservative free Drinking Cacao. Founded in Melbourne, Australia, we hand blend Raw Cacao with plant-based whole food ingredients to create unique and delicious, healthy Drinking Cacao range.
Based on a foundation of wellness and sustainability, it's our pleasure to bring you the most sustainable, delicious and healthy Cacao that takes care of the planet and it's people. All the way from seed to to serve so you can enjoy every cup of Sacred Cacao with total peace of mind .
Cacao (pronounce CA-CA-OH) and Cocoa (pronounced CO-CO) are two different types of chocolate. The chocolate you are used to seeng in the supermarket use Cocoa which is Raw Cacao that has been heated above 48˚ç, thus degrading it's nutrients and health benefits. Raw Cacao is not heat treated, therefore retaining it's nutritional benefit whilst delivering flavoursome chocolate experience.
Also highly processed, Cocoa is often mixed with refined sugars, milk powders and artificial flavours & preservatives to form the commonly known chocolate you see today. At Sacred, we believe that delicious taste shouldn't compromise our nutrition, that's why we blend our Cacao with organic, plant-based wholefoods that are gluten free, dairy free, refined sugar, preservative free and delicious!
In it's raw form, Chocolate as Cacao is one the most nutrient dense superfoods on the planet. Packed with essential vitamins, minerals and nutrients, Raw Cacao is one of the highest sources of Anti-oxidants, Magnesium, Calcium & Iron which is essential to keeping our bodies healthy and vital.
Cacao is also a vasodilator, meaning it helps transport nutrients to where the body needs it the most - the cells. It's also the exclusive source of Theobromine, a chemical compound found only in Cacao that helps unlock energy and increase blood flow to enhances our overall mood & wellbeing.
At Sacred Taste, we believe that Mother Earth is the most Sacred of all. For without her we simply wouldn't exist. She creates oxygen for us to breath, water for us to drink and food for us to eat. That's why we feel it's important to look after her by protecting 30m2 of Amazonian Rainforest for every single 250g Sacred Cacao pack purchased.
As the Cacao Bean comes from the Amazon Rainforest, Sacred Taste in conjunction with Rainforest Rescue will protect thousands of square metres each year to combat deforestation and contribute to the rainforest protection program within the Amazon region. Each purchase you make contributes 30m2 to that program. This is just a small way we give back to the land that gives us so much.
At Sacred Taste, we believe in the power of community. That's why look after and take care of every person our Cacao touches. From bean to bag, seed to stomach, our Cacao helps thousands of people enjoy their lives through the enrichment of Cacao.
Want to be a part of our Sacred Community? Join our Sacred Taste Tribe and get latest downloads, recipes, news, events & updates and subscribe to our monthly Cacao Club and get your monthly supply of Cacao delivered to your door for free. Subscribe now.